Canadian Show-Jumpers Capture Gold
July 05 2017, Bolton Toyota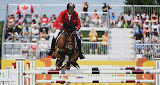 Any Canadian athlete would tell you that it's preferable to have a hometown crowd cheering you on. But that doesn't mean you don't feel added pressure. That was certainly the case for the Canadian Team going into the show-jumping competition in Caledon on Thursday afternoon. For local athlete Yann Candele, 44, who makes his home 25 minutes from the equestrian venue, the pressure was particularly intense.
Team Canada not only rallied to capture the Gold Medal, but earned one of two berths at next summer's Olympics in Brazil.
On Thursday all 10 teams started with zero points, competing in a two-round competition. Veteran Ian Millar and Yann Candele jumped cleanly in the morning round, but both were penalized for time violations. Eric Lamaze and Tiffany Foster also stumbled in what proved to be a shaky opening, leaving Canada tied for third with Brazil heading into the last round.
The Canadians needed to leap - literally and figuratively - both Colombia and Argentina to earn a spot at the Brazil Olympics, requiring a minimum of three clean second round rides, and help from their opposition in the form of mistakes. Team Canada delivered clean rides, with only Millar falling short of his first score.
Argentina earned the Silver and the Americans finished in third place during the competition at OLG Caledon Equestrian Park, will also make the trip to Brazil next August.
Thursday's rounds counted as individual qualifiers for the individual jumping competition, which ends Saturday. The top 35 ranked riders, including ties, move on to the medal round on the weekend.